Link Building Services
Creating a network of links for you
Link networking is what we do best. You will see an increase in organic traffic beyond anything you have ever experienced if you let us handle your link building across the digital world. You can depend on us to provide services that live up to our commitments!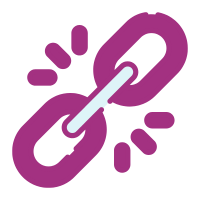 Backlinks and ranking are strongly correlated, as demonstrated by several studies with supporting data. Obtaining backlinks is essential for SEO success since they are one of the key elements for ranking in the search engines. Again, since the 1990s, backlinks have been a key ranking component. In reality, PageRank, a metric used by Google to assess the quality of a website based on the quantity of backlinks, was developed by one of the company's founders, Larry Page.
One-way link building contributes to the development of Link Popularity, an essential component of the SEO process. It's what draws visitors to your website and aids in your ascent up the search engine results pages. Building thematic links that are pertinent to your business is a very efficient way to optimise your website. We offer thematic one-way link building, focusing on the quality links you actually provide.
The Technique Of Link Building
Get Link Building Starting From Rs.3999/- only.
Check out what are clients are saying about us

Over the last few years, I've seen the world of digital marketing change dramatically. I've tried many different methods, but none of them really seemed to work for me. That was until OpMac Ltd approached me with their offer. Now my sales are up and my return on investment is through the roof. If you're not working with OpMac Ltd, you're missing out!
OpMac Ltd is a great company for development services. They were able to provide us with the best service and we are so happy to be working with them. They are also very open to any questions that we have which I really appreciate. I highly recommend them as your next development team!
OpMac Ltd is a great place to get your business what it needs. They've got the best automation software in the industry. As someone who has been in this field for years, I can confidently say that their product is nothing like what I've seen before. The team is also always ready to help with any problems or questions you might have.